New Patient Forms
Please download, print, and complete these forms so you can bring them with you to your first visit:
---
Free AdobeReader®
Each form is a PDF document file. If you do not already have AdobeReader® installed on your computer, you can easily download it for free.
What to Expect
We warmly welcome you to Lifeworks Chiropractic where you will be treated like royalty. It's our goal to be the Four Seasons of chiropractic offices! We aim to provide the highest levels of professionalism and care. Our desire is for patients to feel like kings and queens of the world while they're here.
When you first come into our office, Ruya will greet you and answer all your questions, so you feel comfortable and right at home in our beautiful space. It's all part of our full-service approach!
To help us get to know you better, please complete our new patient paperwork that's available here on our website. You can complete it in the comfort of your home to save time.
Your First Visit
During your first visit, you can expect the following:
You will have a private consultation with Dr. Port to let him know what your goals and objectives are. He will give you an extremely clear picture of how he thinks he can help and his recommendations.
After the consultation, Dr. Port will perform a complete and comprehensive chiropractic wellness examination.
X-rays may be taken to allow Dr. Port to clearly determine a proper care plan. They provide him with an objective diagnostic tool that will show the position of the spinal bones, as well as the quality of the disc and spinal health and safety of adjusting it.
Plan to allow 45 minutes for your first visit.
Your Second Visit
During this visit, Dr. Port will present his report of findings. The report includes a detailed analysis of what you need in order to solve the problem that brought you into our office and what can be done to assure that it won't happen again. You will also receive an adjustment. Once patients actively get on a care plan, they become practice members.
Regular Visits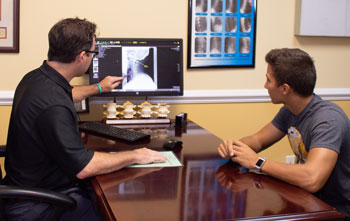 At regular visits, Dr. Port will provide instructions about exercise and rehabilitation. Tractions and exercises are doctor supervised.
Dr. Port is committed to educating his patients and members. "We will tailor their education to how they learn best," he says.
Feel like royalty when you visit Lifeworks Chiropractic! Call (678) 926-9300 to schedule an appointment today.
---
New Patient Center | (678) 926-9300